Upcoming Group Print Show at the Brush Gallery, Lowell, MA
2/7/2022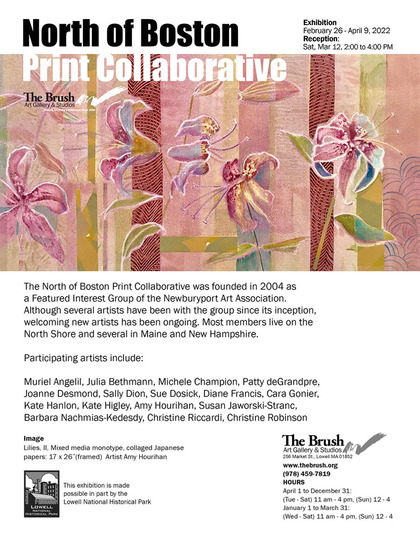 A new collaborative has formed, of which I'm a member. Our first group show will be in Lowell, MA at the Brush Gallery. There will be an in-person opening, date/time TBD.
---
Sept.-Oct. Exhibit at Art Niche, UMASS Lowell Haverhill Campus
8/30/2021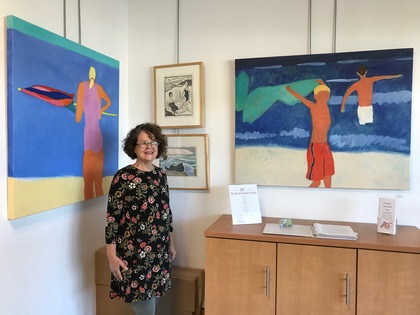 I will be exhibiting work at the Art Niche, UMass Lowell's Haverhill campus during the months of September and October, 2021. This opportunity is made possible through a collaboration between the university and the Haverhill Arts Association. For more info, click this link! https://haverhillartassociation.org/new-events/ihub-artist-for-september-and-october-2021
---
SAGA Award!
4/18/2021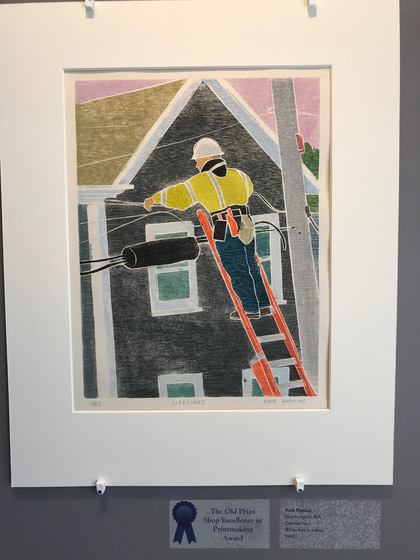 I am proud and delighted to announce that my white line woodcut, Lifelines, was awarded the Old Print Shop Excellence in Printmaking Award! The venerable Providence Art Club hosted the Society of American Graphic Artists annual members juried show, where my print, along with another of my woodcuts, Passerby, were on display. Lifelines depicts one of our essential workers, our local Comcast guy, whom I viewed right outside my apartment window, and who was busy early in the pandemic making sure everyone was well connected over the internet. Where would we be without our cyber connections?!
---
Upcoming Class and Workshop
1/10/2021
ONLINE CLASS: Experimental Drawing

Artist: Kate Hanlon
FIVE-WEEK CLASS
Tuesday, February 16 - March 16, 2021 from 10:00am–1:00pm
ZOOM meeting starts at 10:00 am
M: $300 / NM: $350
MEDIUM: DRAWING
Every drawing is a self portrait of its maker, a record of a temperment, mood, and response to the world that is as unique as a signature. Beginning with simple mark-making, we'll engage our sense of curiosity and explore a range of approaches to drawing as a process. Working from observation, imagination and memory, our focus will be less on traditional rendering, and more on intuitive, individual explorations of materials and process.
This class will combine classwork with weekly homework assignments.
Class will meet online via ZOOM, preferably on your computer. iPad, and smart phone can also be used. You will need to download the ZOOM app. Kate will send an invitation in advance to join the ZOOM class.
www.katehanlon.com
View Materials List HERE
FIVE-WEEK CLASS
Tuesdays, February 16 - March 16, 2021 from 10:00pm–1:00pm
M: $300 / NM: $350
Register

ONLINE WORKSHOP: THE WHITE LINE WOODCUT AND BEYOND WITH KATE HANLON
ONLINE WORKSHOP: The White Line Woodcut and Beyond

Artist: Kate Hanlon
TWO-DAY WORKSHOP
Saturday, April 17, 10:00am–1:00pm
Sunday, April 18, 10:00pm–1:00pm
ZOOM meeting starts at 10:00 am
M: $200 / NM: $250
MEDIUM: PRINTMAKING
The white line woodcut, also known as the Provincetown Print, is a uniquely American form of printmaking, invented by artists working in Provincetown in the early 1900s. In this method, beautiful multicolor prints are printed by hand using a single block, eliminating the need for a press or complicated registration methods. This fun workshop offers the opportunity to learn traditional techniques of design, carving, and printing, as well as the chance to expand upon the tradition with creative inking and printing options, to create contemporary interpretations of the medium. Participants will leave with a number of prints, and with newfound skills and appreciation of the process.
www.katehanlon.com
Click HERE for materials list!
TWO-DAY WORKSHOP
Saturday, April 17, 2021 from 10:00am–1:00pm
Sunday, April 18, 2021 from 10:00pm–1:00pm
M: $200 / NM: $250
Register