Upcoming Class and Workshop
1/10/2021
ONLINE CLASS: Experimental Drawing

Artist: Kate Hanlon
FIVE-WEEK CLASS
Tuesday, February 16 - March 16, 2021 from 10:00am–1:00pm
ZOOM meeting starts at 10:00 am
M: $300 / NM: $350
MEDIUM: DRAWING
Every drawing is a self portrait of its maker, a record of a temperment, mood, and response to the world that is as unique as a signature. Beginning with simple mark-making, we'll engage our sense of curiosity and explore a range of approaches to drawing as a process. Working from observation, imagination and memory, our focus will be less on traditional rendering, and more on intuitive, individual explorations of materials and process.
This class will combine classwork with weekly homework assignments.
Class will meet online via ZOOM, preferably on your computer. iPad, and smart phone can also be used. You will need to download the ZOOM app. Kate will send an invitation in advance to join the ZOOM class.
www.katehanlon.com
View Materials List HERE
FIVE-WEEK CLASS
Tuesdays, February 16 - March 16, 2021 from 10:00pm–1:00pm
M: $300 / NM: $350
Register

ONLINE WORKSHOP: THE WHITE LINE WOODCUT AND BEYOND WITH KATE HANLON
ONLINE WORKSHOP: The White Line Woodcut and Beyond

Artist: Kate Hanlon
TWO-DAY WORKSHOP
Saturday, April 17, 10:00am–1:00pm
Sunday, April 18, 10:00pm–1:00pm
ZOOM meeting starts at 10:00 am
M: $200 / NM: $250
MEDIUM: PRINTMAKING
The white line woodcut, also known as the Provincetown Print, is a uniquely American form of printmaking, invented by artists working in Provincetown in the early 1900s. In this method, beautiful multicolor prints are printed by hand using a single block, eliminating the need for a press or complicated registration methods. This fun workshop offers the opportunity to learn traditional techniques of design, carving, and printing, as well as the chance to expand upon the tradition with creative inking and printing options, to create contemporary interpretations of the medium. Participants will leave with a number of prints, and with newfound skills and appreciation of the process.
www.katehanlon.com
Click HERE for materials list!
TWO-DAY WORKSHOP
Saturday, April 17, 2021 from 10:00am–1:00pm
Sunday, April 18, 2021 from 10:00pm–1:00pm
M: $200 / NM: $250
Register
---
Online White Line Woodcut Workshop Aug, 7-8, 2020
7/14/2020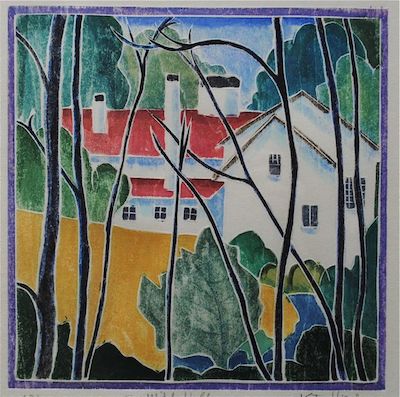 Join me for a workshop on Zoom, offered by Concord Center for the Arts, Concord, MA. Always wanted to try white line woodcut? Now is your chance! I'll be hosting a two-morning workshop coming up in August.

To register: https://www.concordart.org/school/classes#8644

TWO-DAY WORKSHOP
Saturday, August 8, 10:00am–1:00pm
Sunday, August 9, 10:00pm–1:00pm

ZOOM meeting starts at 10:00 am
M: $200 / NM: $250

MEDIUM: PRINTMAKING

The white line woodcut, also known as the Provincetown Print, is a uniquely American form of printmaking, invented by artists working in Provincetown in the early 1900s. In this method, beautiful multicolor prints are printed by hand using a single block, eliminating the need for a press or complicated registration methods. This fun workshop offers the opportunity to learn traditional techniques of design, carving, and printing, as well as the chance to expand upon the tradition with creative inking and printing options, to create contemporary interpretations of the medium. Participants will leave with a number of prints, and with newfound skills and appreciation of the process.

Questions? Email me at khanlon57@gmail.com.
---
Upcoming Workshops
1/17/2020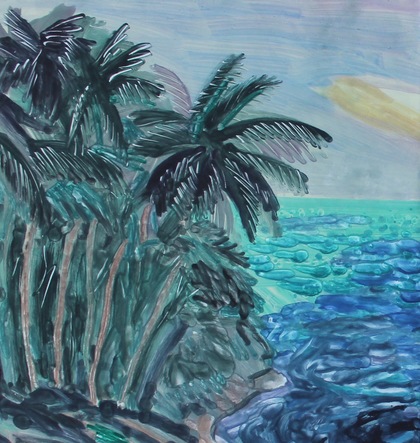 Printmaking Workshops
with Kate Hanlon
at Indigo Artist Studio: 53 Middle St. Newburyport, MA
White Line Woodcut
White-line woodcut, a uniquely American form of printmaking, has its roots among artists working in early 20th century Provincetown, Massachusetts. Like those artists, you will learn to create multiple-colored prints from a single woodblock. Drawing ability is a plus, but even if you can't draw a straight line, you can achieve beautiful results with just a few simple tools!
TWO-DAY WORKSHOP
Saturday, February 29, 10:00am-4:00pm
Sunday, March 1, 10:00am-4:00pm
$250

______________________________________________________________________________
Let's Make Monotypes!
Known as "the painterly print", monotype is the simplest form of printmaking, with a rich history that has attracted artists from the 17th century through today, and there are as many ways of making monotypes as there are artists who make them! We'll work both additively and reductively, rolling or painting ink onto a plexiglass plate, then drawing into or wiping away image areas to create elegantly expressive, unique prints.
TWO-DAY WORKSHOP
Saturday, March 21, 10:00am-4:00pm
Sunday, March 22, 10:00am-4:00pm
$250


For more info or to register: Kate Hanlon khanlon57@gmail.com. www.katehanlon.com

---
IFPDA Print Fair 2019: NYC, Oct. 23-27
10/14/2019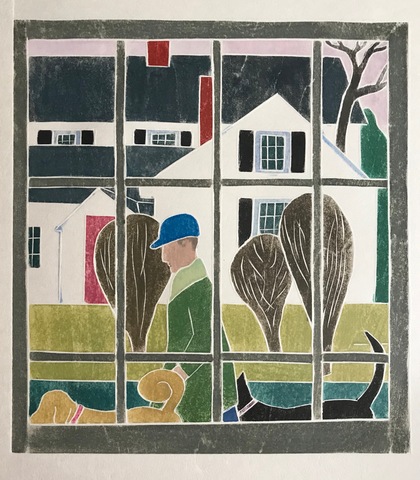 The International Fine Print Dealers Association (IFPDA) Print Fair ("The largest and most celebrated art fair dedicated to fine prints") will be held at the River Pavilion Javits Center, Wednesday through Sunday, October 23-27, 2019. My work will be represented there by Paramour Fine Arts of Franklin, Michigan, Booth #108. Please stop by if you're in NYC and say hello to Ed Ogul at the Paramour booth!
https://printfair.com/
---
Printmaking Show at Gallery Twist
4/5/2019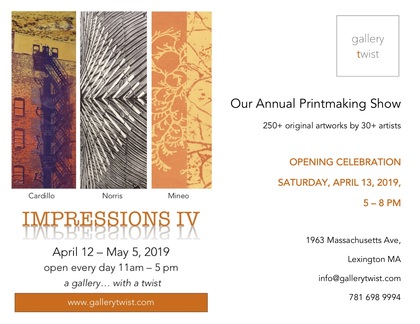 A few of my white line woodcut prints will be included in a group printmaking exhibit at Gallery Twist in Lexington, MA. It's sure to be an interesting show, with many printmaking techniques and points of view.